Well, the simplest explanation is:
Litho printing uses wet ink and printing plates and digital printing uses toners on a press, similar to that of office printer but slightly more advanced. Most printing companies would use digital printing for shorter runs and litho for the printing of longer runs.
Let's look into this a little bit more…
The correct term for litho is Offset Lithography Printing and involves the following process…
The inked image is transferred onto a printing plate
And, then to a rubber blanket
And then transferred to the paper
Cyan, Magenta, Yellow, and Black, also known as CMYK…
In most cases the printing will be done out of the standard four colour process (cyan, magenta, yellow and black, CMYK) and this involves separating the artwork into these different plates, each plate will then print its specific colour and when completed this combined process will create a full-colour print.
Spot colour and Pantone matching services
Printpal also offers spot colour printing on certain products and is often used when our clients are looking for a bespoke Pantone, fluorescent or metallic colour. Spot colour printing is a preferred choice of our corporate clients that need specific colour matches to comply with their corporate brand identity.
Turnaround Time
The turnaround times for this option can vary as different stocks require shorter or longer drying times, our average turnaround is 4 working days but this will increase for solid block colours and special finishes.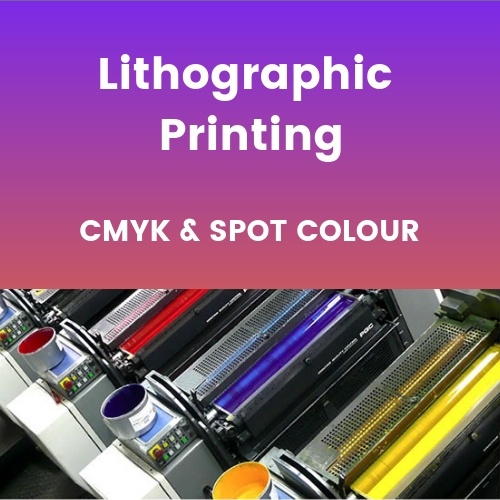 4 things you must know about litho printing
A significant area of cost is attributed to the set-up costs for every job, this includes the cost for the initial set-up, i.e. creating the printing plates, running spare material for plate and image registration. Although the initial set-up time and costs are quite high, once set-up the printing cost is considerably better than digital printing.
When printing large areas of solid colour, litho printing would always be the recommended option. The overall print quality is smoother, more even and consistent. However, a caveat to this is the paper selection as surface characteristics such as absorption and smoothness of the stock will play an important role in the finish of your print.
Litho printing is not just limited to CMYK so do ask your printer if they offer special colours or spot colour printing, for special business card and stationery requirements contact our sales office.
Although litho printing is regarded as the more traditional way of printing with recent advancements in technology, in particular, CTP has helped the printing industry by creating faster plate making, automated processes for colour control and accurate registration.
What is digital printing?
Again, the simplest explanation would be that this is a four-colour process, that requires a reproduction method that involves electronic files (most recommended is PDF artwork) and dots of colour to print the image using toner-based ink. Unlike litho printing, the set-up costs are very minimal and often an automated process that creates less waste of chemicals and paper.
We recommend using digital print for
Short run and urgent orders as this will be a very cost-effective option
Super-fast turnaround as the printed sheets are ready for the finishing department as soon as they come of the digital colour press, no drying time required.
The perfect choice when variable data is required for personalisation of flyers, invitations, place cards and business cards.
Get in contact with our sales office today for our same day printing services in London.